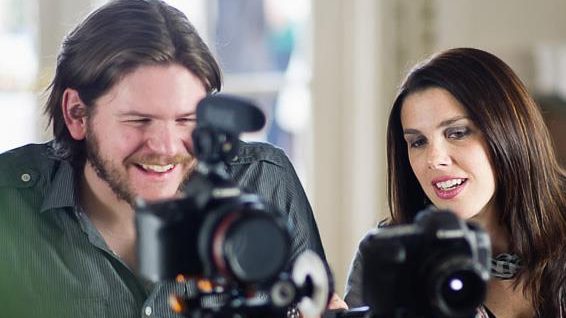 The end of an epic decade of filmmaking
By tom@longhaulfilms.com in How We Work
We love to get reflective at the end of the year, and with a decade coming to a close, we can't help but look back.
Ten years ago, Long Haul Films was a wild dream. We never imagined that a decade later, we'd be flying around the world to make documentaries; shoot music videos; and collaborate with game-changing people and organizations.
To celebrate 10 epic years of filmmaking, we wanted to take a look back at a few highlights:
24 Hours at the South Street Diner was our first short film, and man did it get some buzz. We were featured on WFNX morning radio (RIP), profiled on evening newsmagazine Chronicle and covered in The Boston Herald. The biggest highlight was premiering the film at Independent Film Festival Boston. It was the first time we saw our own work on the big screen, and let's just say we never looked back.
One of the highlights of our early years was our work with BostInno, a publication covering the innovation scene in Boston. The partnership confirmed our passion for making films about innovation and disruption. Of the many projects we did with BostInno, the most memorable was a 3-part documentary called Boston UpFront, that looked at how Boston was evolving for the information age and featured commentary from leading lights in government, education, business, venture capital and urban development. It was screened for an audience of hundreds of people in downtown Boston back in 2014, and is definitely one of our proudest moments.
Speaking of proudest moments, we're proud of how many clients we've worked with for years, with relationships that started in the early part of the decade that are still going strong today. One of those clients is property developer Beacon Capital Partners, who we work with on commissioned documentary short films. One of our favorites is this piece about the RiNo neighborhood in Denver. It's the kind of film we love to make, looking at the artists, residents and business owners who make a neighborhood great.
We couldn't write about filmmaking in the last decade without talking about Adele and Everything After, our debut feature documentary about Marty, a woman with an untreatable heart condition that made her pass out every day, and Adele, the service dog who came along and transformed her life. We started working on this movie in 2014, brought it to film festivals around the country in 2017, and released it with Gravitas Ventures in 2018. Making this movie was full of more high points and memorable moments than we could possibly recount in one blurb. Check out the trailer, and you can watch the award-winning movie for free on Amazon Prime or on a host of other platforms and channels.
While we love making documentary-inspired content, at least once a year we like to shoot a music video so we can stretch our creative muscles and do something totally different. This collaboration with the supremely talented Orchid Quartet, for their interpretation of the dramatic Westworld Main Theme, is one of our faves. It was one of the first projects we worked on after moving to California and our first time filming in the desert—that light, tho!
When Techstars approached us to make a new brand video for them back in 2017, we jumped at the chance. We loved telling the story of Techstars, and the organization's Give First ethos, through some of their most impactful founders, including Payal Kadakia from ClassPass, Isaac Saldana from Sendgrid and Adam Wilson from Sphero.
Last but not least, it's been a while since we did one, but back in the day, we used to LOVE making our annual holiday video. This mock crowdfunding campaign, for a product called The Doppelganger, still makes us ROFLOL.
And holy crap, we just realized we're scheduled to deliver The Doppelganger this month. Uh-oh….
Ten years has simultaneously gone by in a blur and felt like a lifetime. The biggest thing the decade has taught us is gratitude. We are grateful every day that we get to do a job we love, for clients who are doing cool things, in collaboration with many talented people. Thanks to everyone who helped make the past ten years such a joyful adventure. Here's to 2020 and a new decade of filmmaking!
Merry everything and happy new year,
Tom & Melissa and Team Long Haul