We make documentaries and branded content to help creators and innovators inspire change.
We value innovation, diversity, authenticity, impact.
CURRENT PROJECTS
Restarting The Motor City – documentary feature
A disparate group of locals and transplants trying to rebuild a fractured Detroit must free themselves from the shackles of 20th century short-sightedness and innovate together to create a city of the future.
Status: currently in pre-production/fundraising
To learn more, visit restartingthemotorcity.com
Letting Go Of Adele – documentary feature
A love story about a woman with a broken heart, the dog who saved her life every day for nine years, and what it means to let go.
Status: currently in post-production
To learn more, visit lettinggoofadele.com
We're based in downtown LA, but we travel all over the world for compelling, game-changing projects.
If you would like to contact us about branded content or commercial work, please call or email:
+1 (213) 357-1165 / info@longhaulfilms.com
We respond to all inquiries, so if you haven't heard from us within a couple of business days, please check your spam filter, or give us a call.
Long Haul Films was founded by Director Melissa Dowler and Director of Photography Tom Dowler to make films that inspire big thoughts, emotions and change.
This is us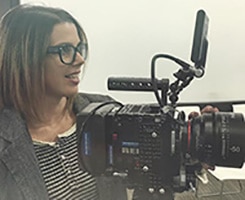 Melissa Dowler
Director
My focus is to push forward diverse voices in film; explore how innovation and creativity are changing our world; and find the extraordinary in the stories of ordinary people and places all around us.