Long Haul Films: documentaries and branded content for creators and innovators.
Our values: innovation, diversity, authenticity, impact.
Please note: we are no longer taking any wedding film inquiries.
If you would like to contact us about branded content or commercial projects, please call or email:
+1 (213) 357-1165 / info@longhaulfilms.com
We respond to all inquiries, so if you haven't heard from us within a couple of business days, please check your spam filter, or give us a call.
Long Haul Films was founded by Director Melissa Dowler and Director of Photography Tom Dowler. Our motto is Latin for "harder, better, faster, stronger".
This is us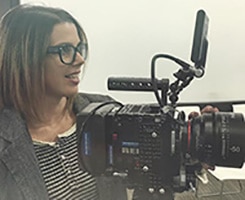 Melissa Dowler
Founder & Global Creative Director
I've always been driven to document the things that give life meaning. Working in advertising made me search for deeper connection. Becoming a filmmaker made me someone who sees the world with wonder.